About
Fresher*
Services
Blog
MediaFresh is a web design and development shop based in Montreal. We've provided design and programming services since 1996 including:
Websites with Content Management Systems
Online stores with integrated PayPal checkout
Secure digital download systems
Social media integration including Facebook, Twitter, and custom MySpace pages
Online games and applications with Adobe Flash
Fully SCORM compliant online courseware
IT consulting services
Out web-based system called Fresher* provides a rich set of content management, electronic commerce, and social marketing tools. Our clients manage their projects with Fresher*'s intuitive interface from any web-enabled device including PCs, Macs, iPhones, and Android devices.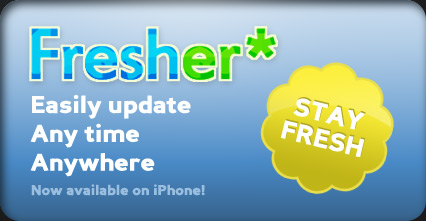 Fresher* was built to handle a wide range of productions. It empowers our clients, allowing them to take control of their online presence. We'll be there when you need us but you'll feel better knowing you have control.
With Fresher*'s flexible templating API, we can build nearly any kind of website you want. Fresher* doesn't impose any functional or esthetic restrictions on what you want to do.
Fresher Verticals
Don't re-invent the wheel. We might already have something that suits your needs. We reuse much of what we've developped over the years improving upon previous versions as we go. Fresher Verticals are pre-built template sets and page structures designed for specific industries. Maybe one of these sets can kick start your project and get you up and running in no time.
Find out more...

We offer a wide range of services both in-house and with our network of experienced freelancers. These services include:
Art Direction, Branding, and Graphic design
Web integration (Javascript, Actionscript, .NET, PHP, C, or Java)
Database administration (SQL Server, MySQL, PostGreSQL, Oracle)
Search engine optimization
Online store and shopping cart integration
Custom software development (C++, Actionscript 3)
Online multiplayer game design and production